Anthony Desreaux grew up in the Corner Country of outback N.S.W on Mount Wood Station 27kms East of Tibooburra. Horses have alway been his passion and he spent all of his youth with his horses.
Working years in stock camps and riding many nervous and unconfident horses he grew to realise there must be a better way than what they were doing. Around this time Gordon McKinlay came to teach horsemanship and from there on Anthony had seen the light at the end of the tunnel.
Going away from horses for a few short years whilst contract mustering with motorbikes and yard building Anthony had put his dream on a temporary hold. He then met his wife Deb and she brought the horses back into his life. Now they couldn't see life without them.
Although he has a lifetime of horse experience, it's been the past 16 years that Anthony has taken his skills and advanced his skills by riding more and more horses daily from young colts, older rank horses and horses that are just amazing to ride right from the get go.
Having spent time in the USA riding under the tuition of Ray Hunt, Buck Brannaman, Craig Johnson, Pat Parelli and with some amazing horseman who are making their mark in the USA, Anthony is putting his skills and talent into helping other people who are starting on the same journey he once commenced. The journey of horsemanship never ends.
Although, Anthony has competed successfully in rodeo, gymkanas & on occassions helped ride a racehorse or 2, his Horsemanship & his teachings are not about being a good competitor in any horse sport or a well known horse breaker. It is about being given a horse, any horse and getting that horse to trust you, accept you and all your gadgets of saddlery and still do what you want, when you want without fear, intimidation, anger or cruelty.
Horses can make the greatest partner if you just give them a chance and show them a good road to follow.
Anthony resigned from managing a large cattle station in far Western Queensland in May 2015. Here he used horses to muster cattle and teach his staff how to start young horses, deal with a horse that may have problems and have horses enjoying doing a job. Teaching horsemanship was a part time job between his mustering schedule, but has become his full time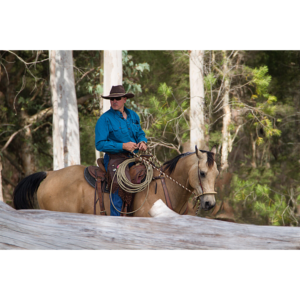 career after students just kept asking for more clinics.
Anthony's clinics give people a great learning and equal opportunity environment. Encouraging people to learn & continually improve on their skills with horses.
Anthony along with his wife and 3 children want to open the door to more people wanting to get a safer, calmer, friendly start with the horses in their lives. If you are looking to compete, Anthony can certainly give you the tools to get your horse to its optimal level.
There is no competition, no rush through the schedule. It's just taking the time that it takes to create the partnership you want with your equine friends. Once you have that then you're unlimited to what you & your horse can achieve.
Hope to see you on your journey!